1. The Shawshank Redemption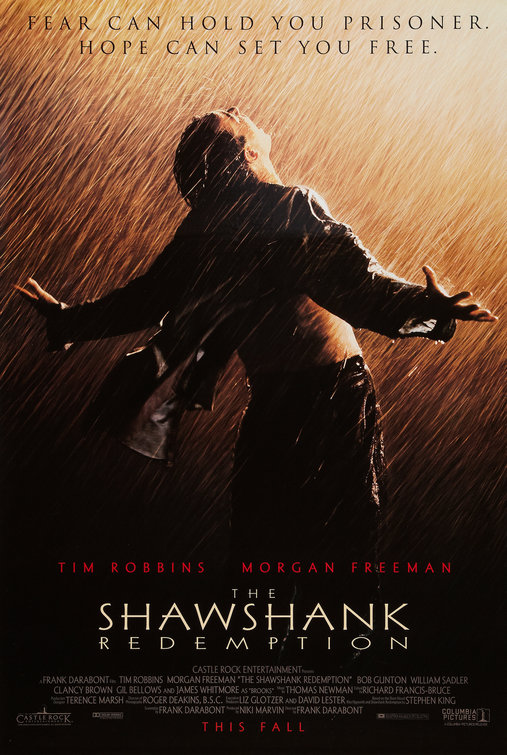 "Fear can hold you prisoner. Hope can set you free."
Originally considered a flop at the box office the first time it came out, The Shawshank Redemption has become one of the most critically acclaimed movie of our generation; being considered the best movie ever made. I mean it has held its ground on iMDB's Top 250, so besides all that, it has be doing something right. And indeed it does.
Shawshank is about a man wrongly convicted for a crime he did not commit. A story firstly written by Stephen King called "Rita Hayworth and the Shawshank Redemption" made into a blockbuster film. The movie follows the story of Andy Dufresne and his absolute redemption in life in the most ironic place possible, inside of a high-security state penitentiary: Shawshank prison. I won't spoil anything for you but this is a movie unlike any other. It does not have any high budget special effects sequence or an all-star cast of characters. What carries it through is its already outstanding directorial perspective and its heartfelt plot and witty dialogue. The performances given by the likes of Tim Robbins and Morgan Freeman are truthful and believable; making it seem like they were in that prison far longer than imagined. This is truly a genuine movie, being faithful to what it is, and succeeds greatly. Please do yourself a favor and be enlightened and enriched by this movie masterpiece. This is without doubt the best movie of all time.